When your ecommerce stores installs the GoodCarts app, your store will generate a "thank you" message at the end of the checkout process. This message is used to inspire customers to click and choose a discount for another store in your chosen circle (or community) of brands (i.e. Black-owned businesses, sustainable businesses, etc.)
Other stores in your circle also feature this thank you message encouraging shoppers to select a discount to your store!
The GoodCarts app is about using post-purchase cross-promotion to increase visibility and sales for free. This page of discounts shown to customers is randomly generated by our system. Your store can boost your visibility and increase your opportunities for additional collections by creating more than one coupon in the GoodCarts system! See our optimize with A/B testing tips at the end of this article.
A few coupon creation pro tips:
Customize your coupon offer to match your brand.
Use a unique discount code for each coupon.
Use an eye-catching image to grab attention – some of our most popular discounts feature a store's top selling products. 
Use a discount that is a bit sweeter than what is currently available on your website.
Ready to create or refresh your current GoodCarts discounts?
Here's how:
From the GoodCarts dashboard select "Coupons" (the default screen when you login to GoodCarts the second and all future time) and create a new coupon with by pressing the [+ New Coupon] green button.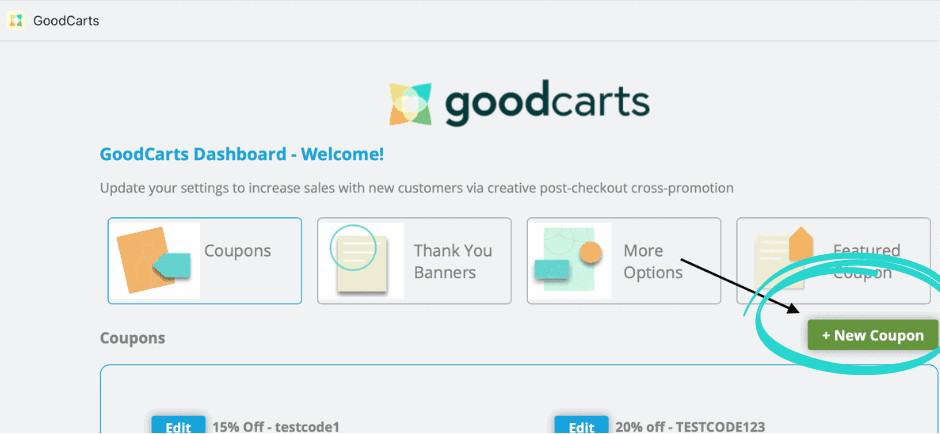 2. Add/update your store logo if needed and a square feature image (other dimensions are scaled down to fit):
3. Choose your discount value and set any other discount parameters (such as a minimum purchase amount). Add brief, descriptive and compelling text about the offer and add something about your store in the extended coupon text (such as "Thank you for supporting an Indigenous-owned business.")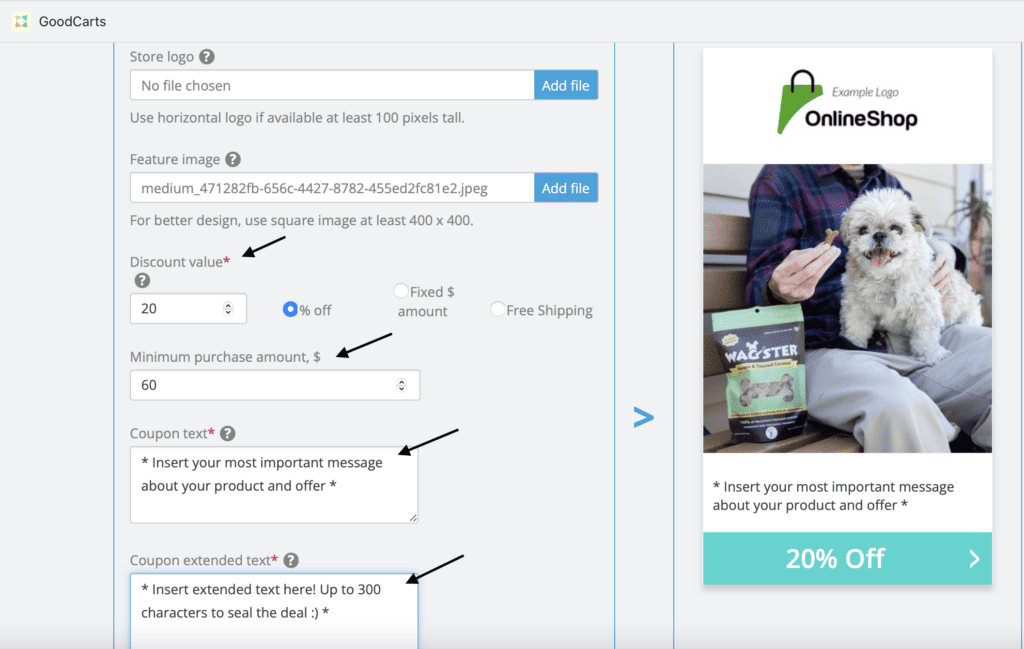 4. Create a unique discount code, set an expiration days time period (it triggers a reminded email if they haven't used the discount the day before they are told the offer expires) and set an end date for your offer if you like (we recommend "set it and forget it" no end date).

5. Be sure to carefully look over your coupon to ensure the images look high-quality and the copy is accurate and free from spelling errors.
Create several GoodCarts coupons for the system to cycle through and you'll see which images and offers grab the most attention.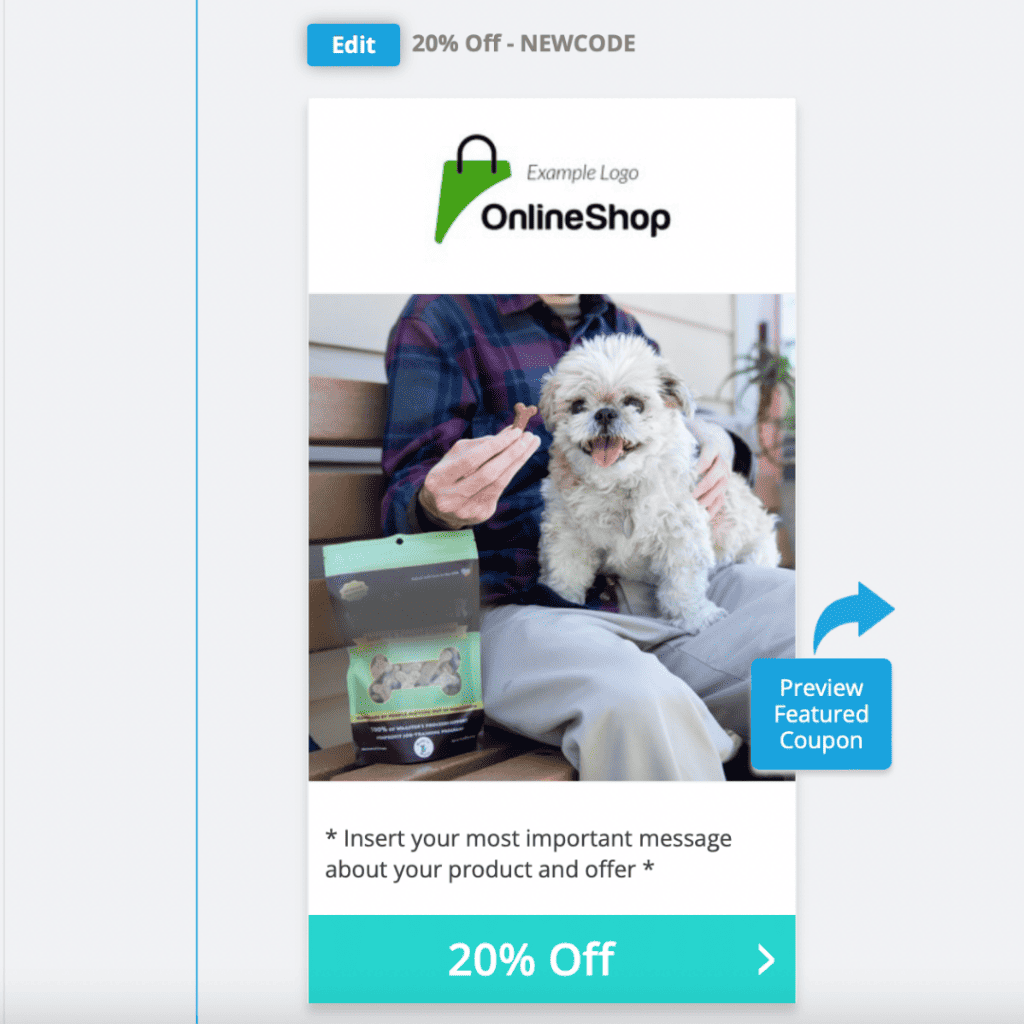 Creating your second discount? Here's how to optimize on GoodCarts.
Some coupon optimization pro tips:
Run at least two discounts, four is even better! Coupons rotate through your space on the GoodCarts discount page for free.
Experiment with the featured image first. Use an eye-catching square image to grab attention. Some of our most popular discounts feature a store's top selling product(s).
Another popular discount format is using the coupon to highlight a mix of popular products with a visible mention of your mission or impact.
For each discount created from the GoodCarts app, use a unique discount code (for tracking purposes).
For future tests, experiment with the text and discount amount, after determining which images perform best. Turn off your poor performers then test the text and offer amount.
Be sure to use a discount that's a bit sweeter than what is openly available on your website.
Ready to refresh your current GoodCarts discounts and create additional offers? Click here to login to Shopify to update your information in the GoodCarts app. (Look for "+New Coupon" below the dashboard menu) If you're on another ecommerce platform, login to GoodCarts through my.goodcarts.co.