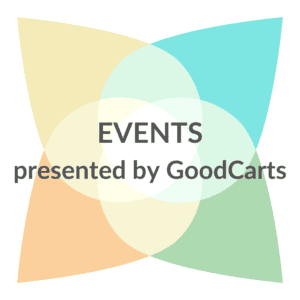 Sign up for our occasional Impact Retail e-newsletter to stay up-to-date on upcoming GoodCarts events
UPCOMING EVENTS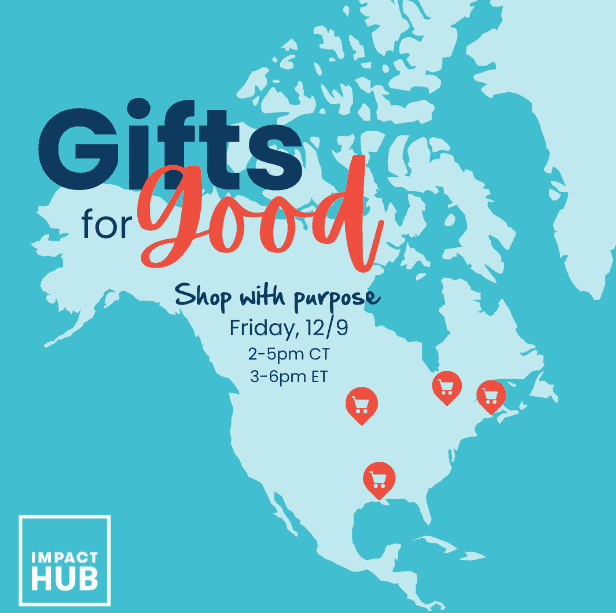 GoodCarts is proud to sponsor the Gifts for Good Holiday Market!
Reserve your space for FREE to shop sustainable and ethical products for the holiday season from an inspiring selection of makers from the Impact Hub network across the country. Drop into the virtual marketplace any time between 2:00 pm – 5:00 pm Central to explore virtual booths, get access to special discounts and visit the "main stage" to meet the makers and learn more about these inspiring businesses.
We're all holiday shopping, let's shop with purpose! Register now for free. For more information and for additional "shop for good" guides, click here.
PAST EVENTS
GoodCarts Demo Day
Whether you've been GoodCarts-curious or are hearing about GoodCarts for the first time, you're invited to attend this free, no pressure demo. Learn how GoodCarts works, ask questions and meet other brands working to increase their ecommerce customer base.
From sustainable and shop-for-good brands to Black-owned brands (in partnership with Operation HOPE and 1MBB) and Made in Minnesota companies (in partnership with the MN Department of Agriculture) – GoodCarts helps stores find their good and get FREE traffic to grow.
GoodCarts Members and Friends Virtual Meetup
GoodCarts members gathered virtually to discuss and work through the challenges of ecommerce retail and also to share successes.
Made in Minnesota Virtual Meetup
Minnesota brands, makers and ecommerce entrepreneurs met up to share information about operations, exchange ideas about advertising and marketing products and make new connections. From finding customers and increasing sales to third-party app recommendations and setting ourselves apart from other brands — we covered it all.
---
Made in the USA Virtual Meetup
Made in the USA makers and manufacturers met up virtually to share information about ecommerce operations, make new connections and exchange ideas about advertising and marketing products. From supply chain disruptions to setting ourselves apart from other ecommerce retailers, we covered it all.
---
Impact Ecommerce Global Internship Virtual Meetup
The GoodCarts interns wanted to connect with others working with organizations making a positive impact in the world, so we hosted a virtual intern meetup! Interns from around the globe, working hard to do well by doing good, talked about their experiences and their plans. The future is bright!
---
Brand Storytelling With a Purpose — Branding expert Gage Mitchell, principal/creative director of Modern Species and host of Evolve CPG shared simple, affordable and actionable tips for telling your story in a way that shows customers the real heart and driving motivation behind your brand. Click here to see what we learned!
---
Economic Empowerment and Ecommerce – This dynamic discussion on the future of economic empowerment and ecommerce featured n opening interview with eleven year-old Mya Beaudry, founder of Kokom Scrunchies, followed by a panel featuring – Operation Hope, Shopify Build Native and the Good Market. This event was presented by the American Sustainable Business Network and GoodCarts. Click here to see what we learned!
---
Wholesale For Good – GoodCarts members Darzah, Zeki Learning, HHPLIFT, Soak it Up and Women's Bean Project showcased their wholesale operations and shared their insights during a Q&A with lessons about how to wholesale more sustainably, avoid greenwashing and find and offer products that truly make an impact. Click here to see what we learned!
---
Impact Retail TikTok Meetup – Team GoodCarts led a live brainstorming session for sustainable and shop-for-good retailers. We worked through experiences on TikTok, answered each other's questions about the platform and shared resources to help everyone get the most out of their time on TikTok. Click here to see what we learned!
---
Growing Pains: Why Isn't Your Social Impact Brand Profitable (Yet)?
Michelle Thomas — accountability and implementation consultant and founding partner of Mata Traders — led a deep dive into how social impact companies can scale up smartly and sustainably. Check out Michelle's presentation and get our observations here.
---
Impact Retail and Sustainable Products Summit
Get the keynote replay and uncover some of the amazing insights here!
---
Gen Z Impact Retail Meets Next Gen Impact Investing
From high impact origin stories to trends in impact investing, we covered it all. Get a replay and discover what we learned here.