Convert post-purchase consumer traffic into DEI impact

Sponsor cross-promotion among invited brands – by place and more 

Ecommerce technology solutions from our purpose-driven team 

Tap trusted and tested talent from across the GoodCarts community
The radically new GoodCarts ecommerce model amplifies everything from 'shop local' initiatives to Diversity, Equity and Inclusion (DEI) efforts. The GoodCarts technology has enormous potential for economic development, enterprise and consumer markets.
Here are just a few of the solutions GoodCarts offers: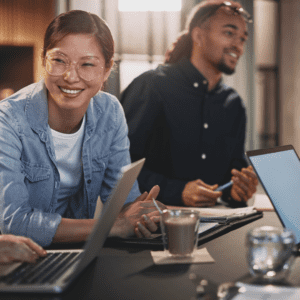 GoodCarts is building community through ecommerce.
Let's grow together and win together!
Diversity, Equity, Inclusion (DEI) Impact
Looking for creative ways to meet your DEI investment goals? GoodCarts is pioneering the way to leverage post-transaction online traffic for good and reward customers and employees in the process.
The path to economic equity and inclusion comes from building and supporting businesses owned by a diverse entrepreneurs, particularly from underrepresented communities.
GoodCarts can help your business transform your untapped post-transaction online traffic into real, measurable results for BIPOC-owned brands. In fact, GoodCarts is already working with a Fortune 100 ecommerce brand to do exactly this.
Contact us to learn more about how to utilize GoodCarts' technology to support BIPOC-owned businesses while rewarding your customers and employees with discounts that matter.
Buy Local Initiatives
Tired of seeing distant online marketplaces suck the margins out of your local communities?
GoodCarts helps connect area customers with regional ecommerce retailers in a new way. Sponsor a geography-based circle to boost your regional economy and give consumers the option of buying local in your city, state, province or even country.
For an example of how GoodCarts buy local initiatives can work, check out our Minnesota Grown and Made Circle in partnership with the Minnesota Department of Agriculture's New Markets program and Minnesota Grown.
Ecommerce Marketing and Technology Solutions
GoodCarts and our trusted technology partners have decades of experience in providing ecommerce technology and marketing solutions. We understand the stress and pain points of ecommerce store owners and we offer highly qualified and targeted solutions to help ecommerce organizations reach their goals. 
Ecommerce technology solutions include: 
Upgrade and migrate ecommerce platform and apps

Review and install ecommerce apps (Shopify apps, for example)

Custom ecommerce development

AI and machine learning technologies for ecommerce 
Ecommerce marketing solutions include: 
Content strategy and marketing

Digital advertising and optimization

Partnership strategy and facilitation 

Social media strategy and managemen

Email list building

Product reviews strategy and monitoring

Shopify app review, installation, and set up

Marketplace strategy, setup and support

Wholesale marketing strategy and setup (Faire, etc.)
Sponsored and Dedicated Circles
Your theme + joint outreach + GoodCarts technology = revenue-boosting success!
Utilize GoodCarts technology to boost post-purchase cross-promotional traffic in just about any category.
A branded circle dedicated to boosting underrepresented small businesses.
A custom circle in partnership with select brands to build community and commerce around an event, conference, movement, campaign, milestone — just about anything!
Contact GoodCarts with your ideas to get started.