Our plugin for WooCommerce will get you set up in just minutes.
Thank you for your interest in GoodCarts. Let's go!!!
Need help? Contact us anytime or grab a time.
Open up the WordPress admin for your store.
In your WordPress site admin choose Plugins -> Add New on the left, them search Keyword for "goodcarts" and press Install Now to get started. Then press Activate Plugin (not shown).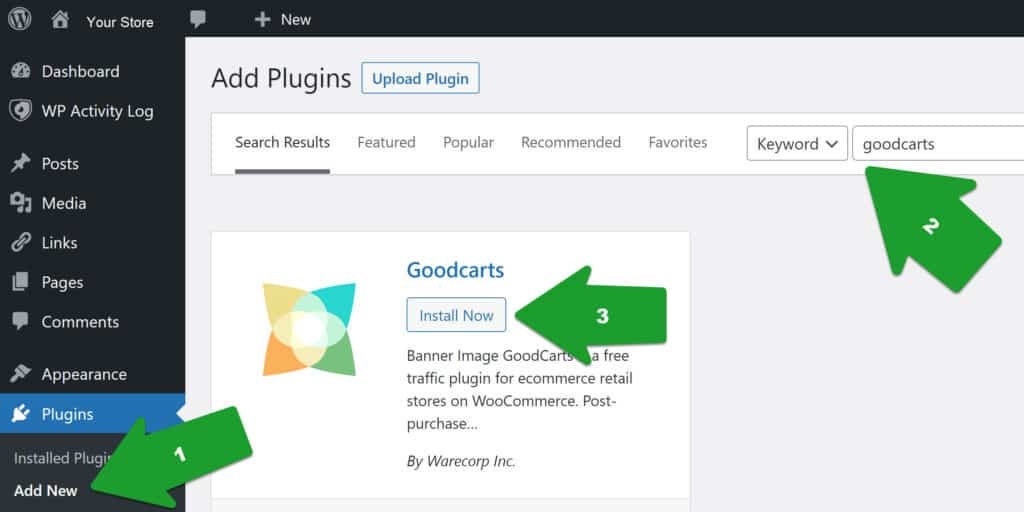 The GoodCarts plugin works with WordPress 5.3 – 6.0 (latest) and WooCommerce 4.5 – 6.5.1 (latest).
After actiation, click the invitation to the quick first install wizard. You can follow the process from the set-up wizard within your WordPress store or click here for step-by-step installation instructions.
Once installed, GoodCarts will review your store and requested Circle. Once we approve you into the best fit Circle, your discount will generate free visibility and new customers as shoppers collect your coupon from GoodCarts. The 'thank you banner' will also be shown on checkout receipt page of your store.
Need help? Contact us anytime.