Our plugin for WooCommerce will get you set up in just minutes.
Thank you for your interest in GoodCarts. Let's go!!!
Need help? Contact us anytime or grab a time.
Open up the WordPress admin for your store.
In your WordPress site admin choose Plugins -> Add New on the left, them search Keyword for "goodcarts" and press Install Now to get started. Then press Activate Plugin (not shown).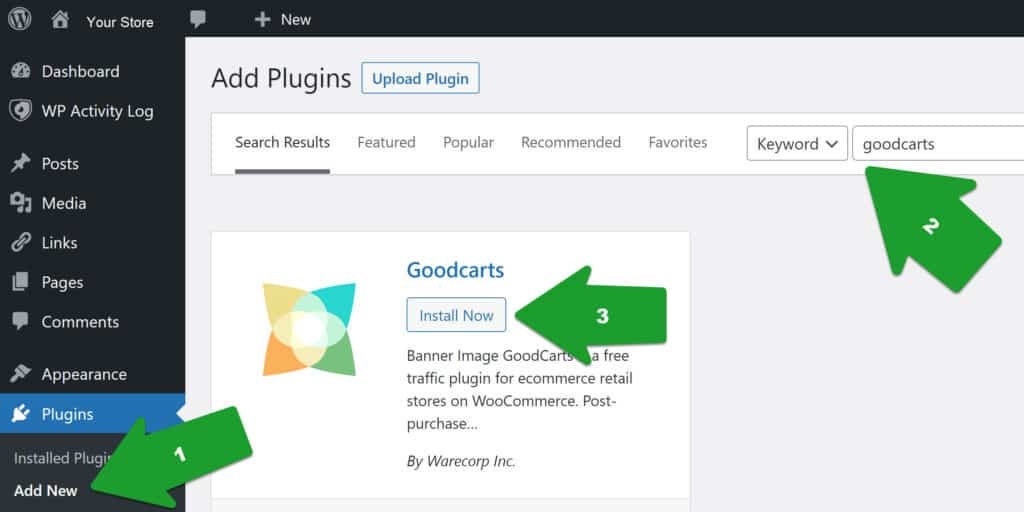 The GoodCarts plugin works with WordPress 5.3 – 6.0 (latest) and WooCommerce 4.5 – 6.5.1 (latest).
3. After activation, click the invitation to the quick first install wizard. Do it now.
You can now follow the process from the set-up wizard within your WordPress store.
Or if you want a preview, zip through the rest of this page.



4. Create your GoodCarts account.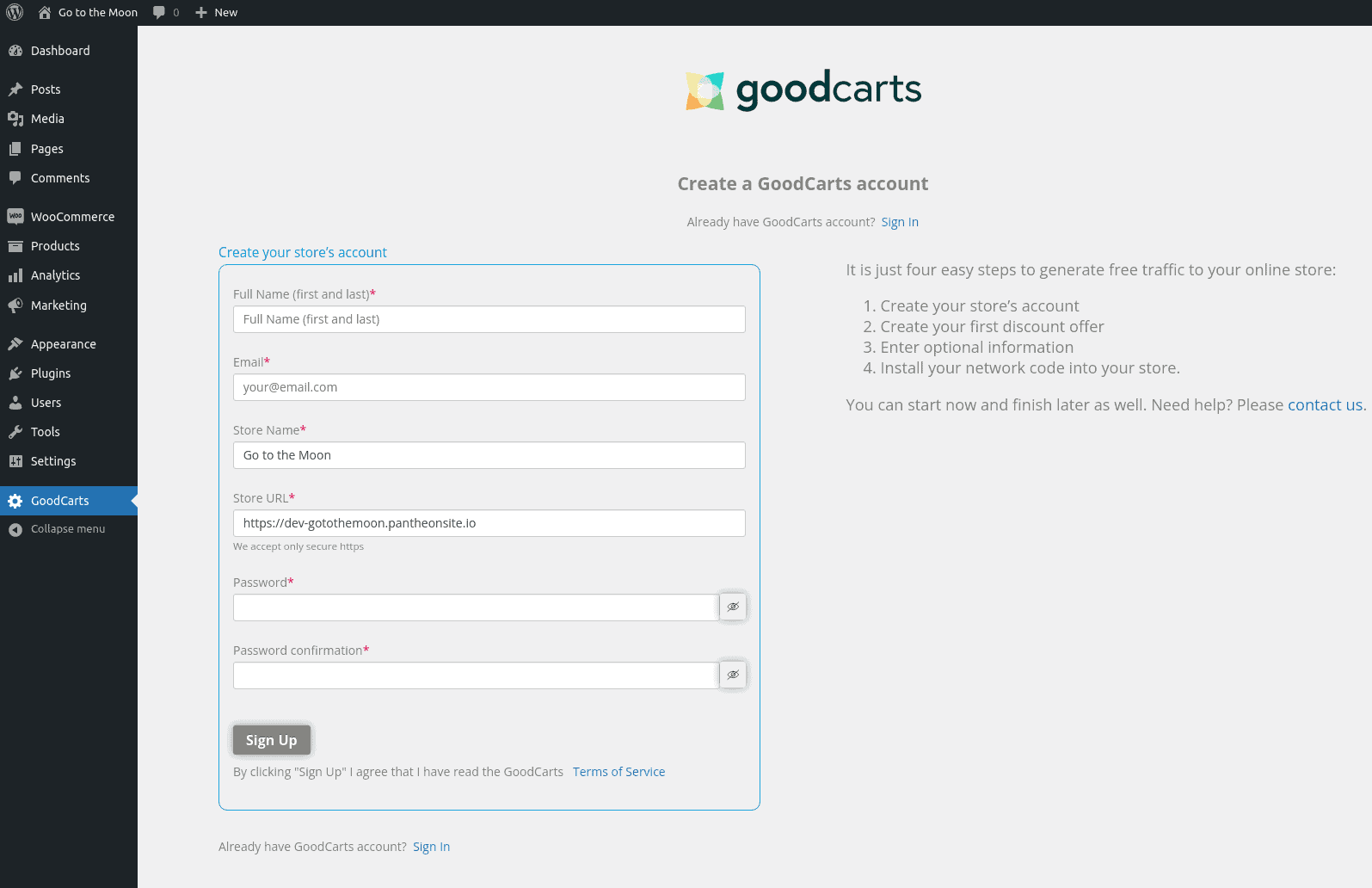 Note: If you see the Sign In box instead, click Create an account.
5. Verify your email.


Just click the link in the email, system will confirm your email and bring you back to GoodCarts admin inside your store's admin section.

6. Grant GoodCarts permissions for WooCommerce integration.
We need it to seemlessly create coupons for you in WooCommerce, so you don't have to do this work twice.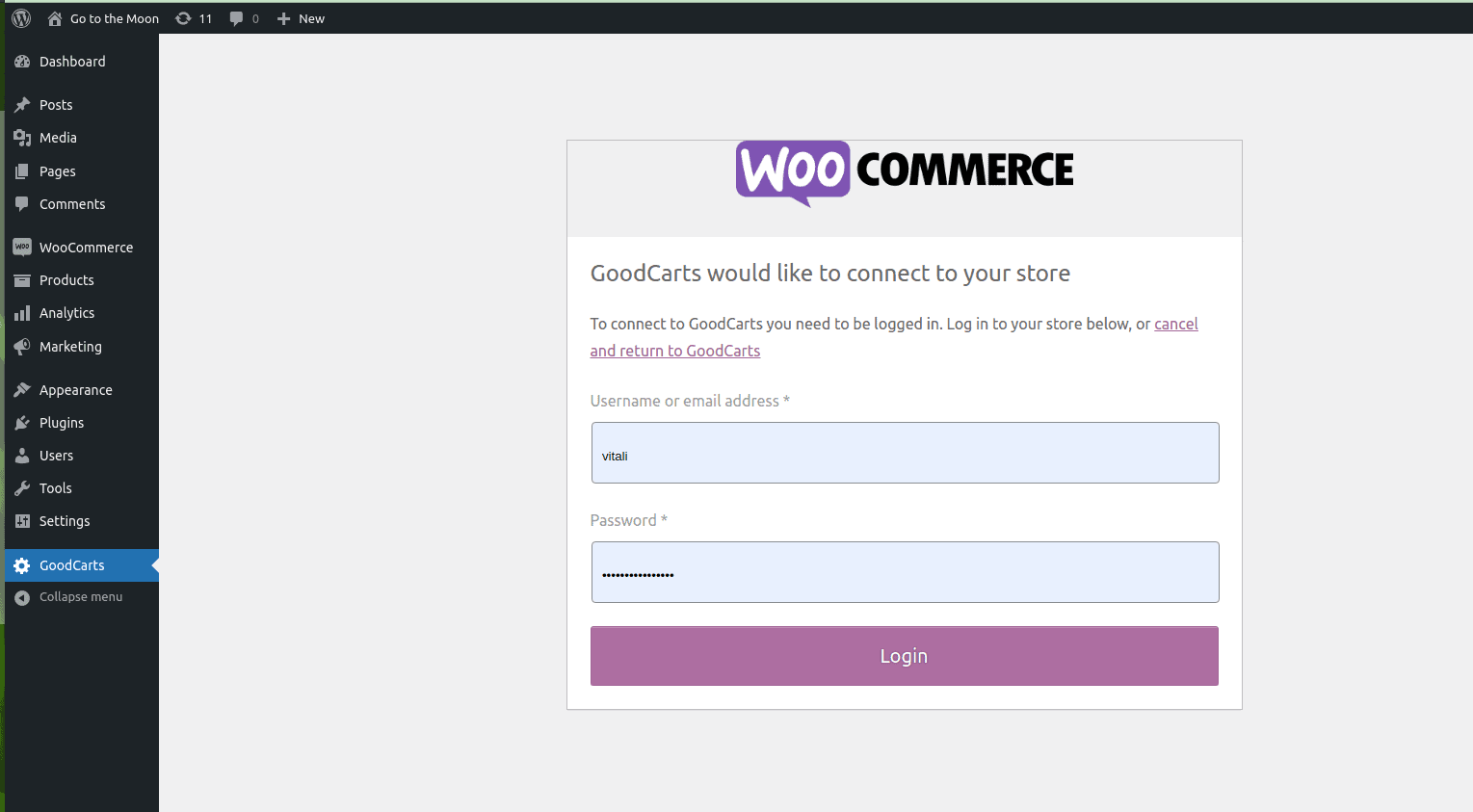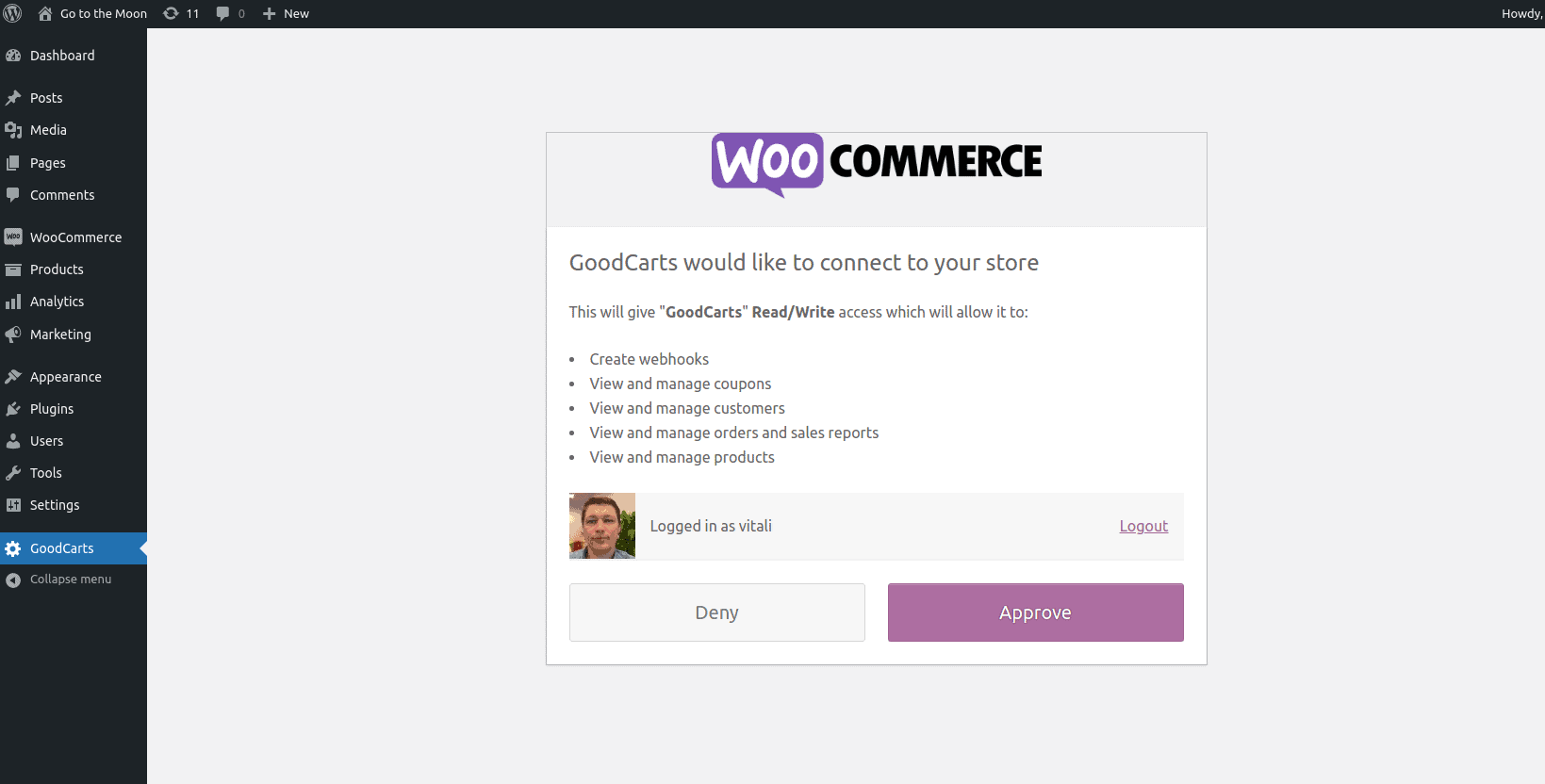 Now only a few vital steps left.

7. First, choose your circle. Tap ? question marks for help and advice.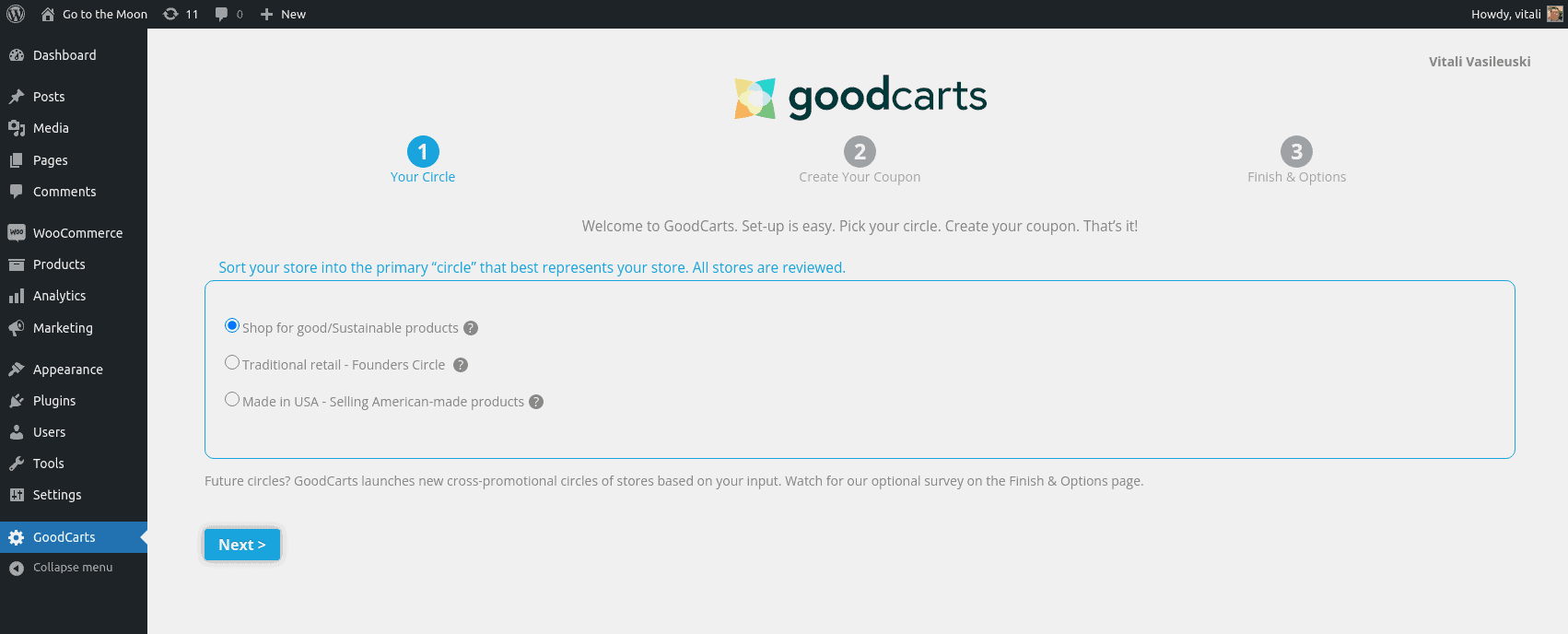 8. Next step, create your first coupon. This is what powers your free visibility and brings new paying customers. Use a compelling product image.
9. Optional Setup. You are done.
If you like, customize your "thank you banner" text, button text, and button color. It looks something like this in your store's online receipt.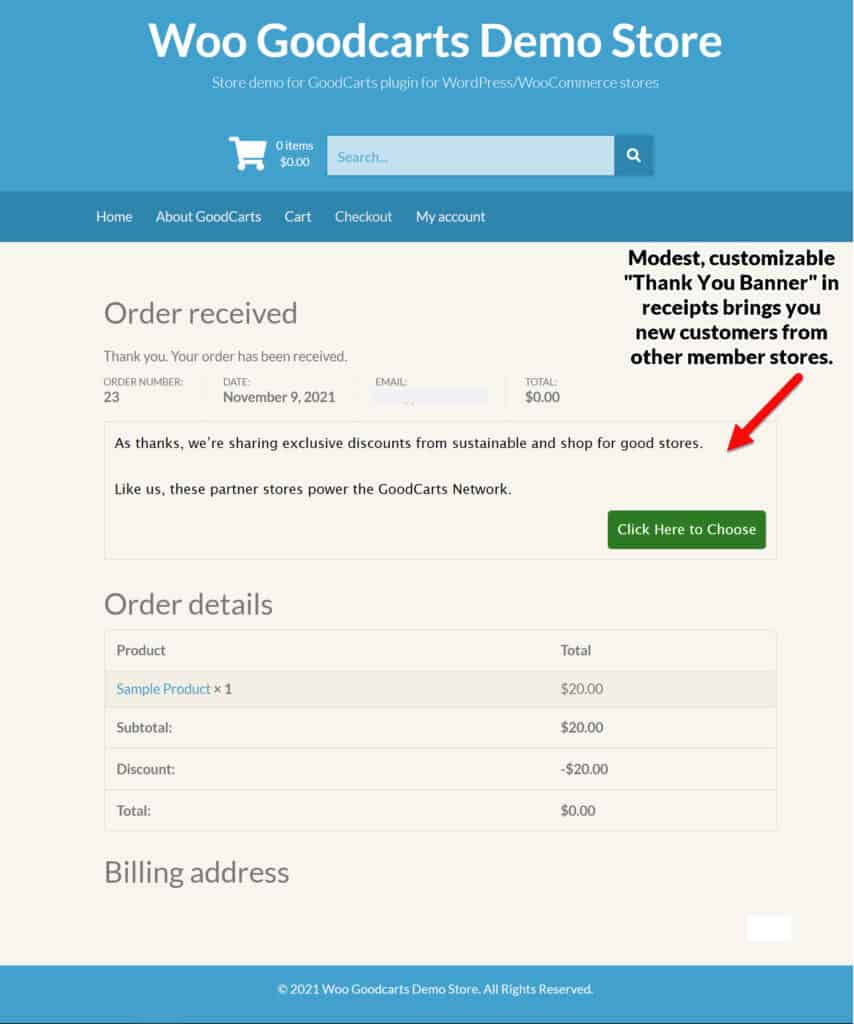 10. The last startup step completed, you'll be brought to the Dashboard.
Each time you visit the GoodCarts admin within your WordPress/WooCommerce store it will start you here.
You always be able to configure your thank you banner and coupons later in the app dashboard.
Expert tip: Create a second coupon and A/B test with a different image and promo code.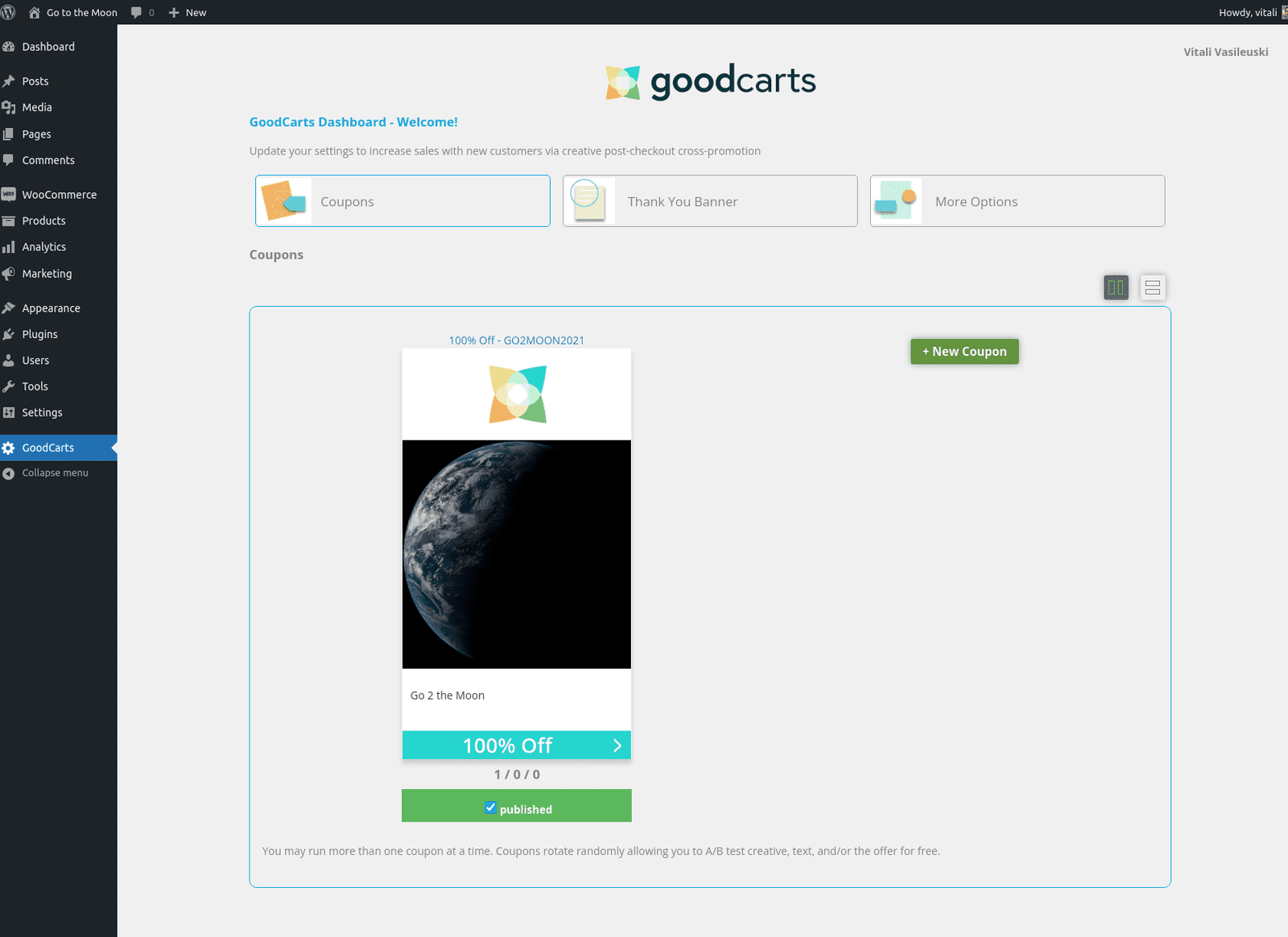 That's all.
We will shortly review your store and requested Circle. Once we approve you into best fit Circle, your discount will now generate free visibility and new customers as shoppers collect your coupon from GoodCarts. The 'thank you banner' will also be shown on checkout receipt page of your store.
Need help? Contact us anytime.
Advanced Install Option
Advanced users may download the GoodCarts plugin from our public GitHub repository ( download goodcarts-wp-plugin )
and upload it using Upload Plugin button under Plugins -> Add Plugins section in your site admin section. More details on our GoodCarts WordPress Plugin page.


Press "Activate Plugin."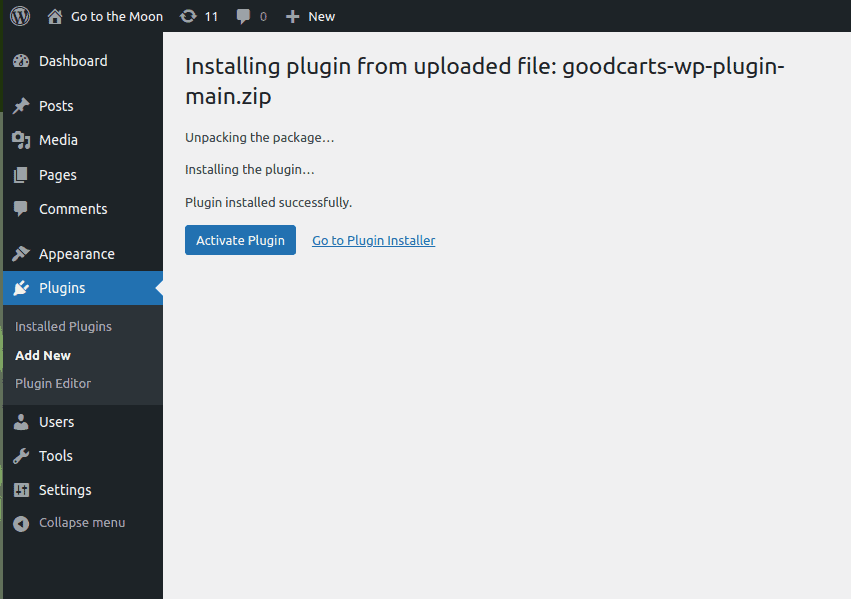 Note. Plugin requires WooCommerce plugin activated and https is used on your site.