Steven Clift
Watch Now – Gen Z Retail Meetup Signup
The most inspiring thing about leading GoodCarts is meeting the amazing founders of our member stores and hearing their origin stories. While our founders are of all ages, I find the Gen Z entrepreneurs quite inspirational.
They are leading the way for a massive generational shift, not just in purpose-driven consumer expectations, but with new companies and business models for change. How about thousands of new Patagonias and Ben and Jerry's founded by the next generation themselves?! That's what inspires us – helping these new brands break through.
So, when I had the opportunity to organize a virtual event for our allies with Social Venture Circle and the  American Sustainable Business Council, I invited a couple dynamic founders from our GoodCarts network. Our friends with  GoodMarket.Global nominated a third.
These impact retail entrepreneurs, ranging in age from 23 to 27, will kick off the panel with their origin stories, lessons they've learned along the way and their prospects for scaling. Then we will bring in responses from investors tuned into the "Next Gen" of impact to offer their insights on impact via consumer products and retail.
Check out the video of this outstanding event here: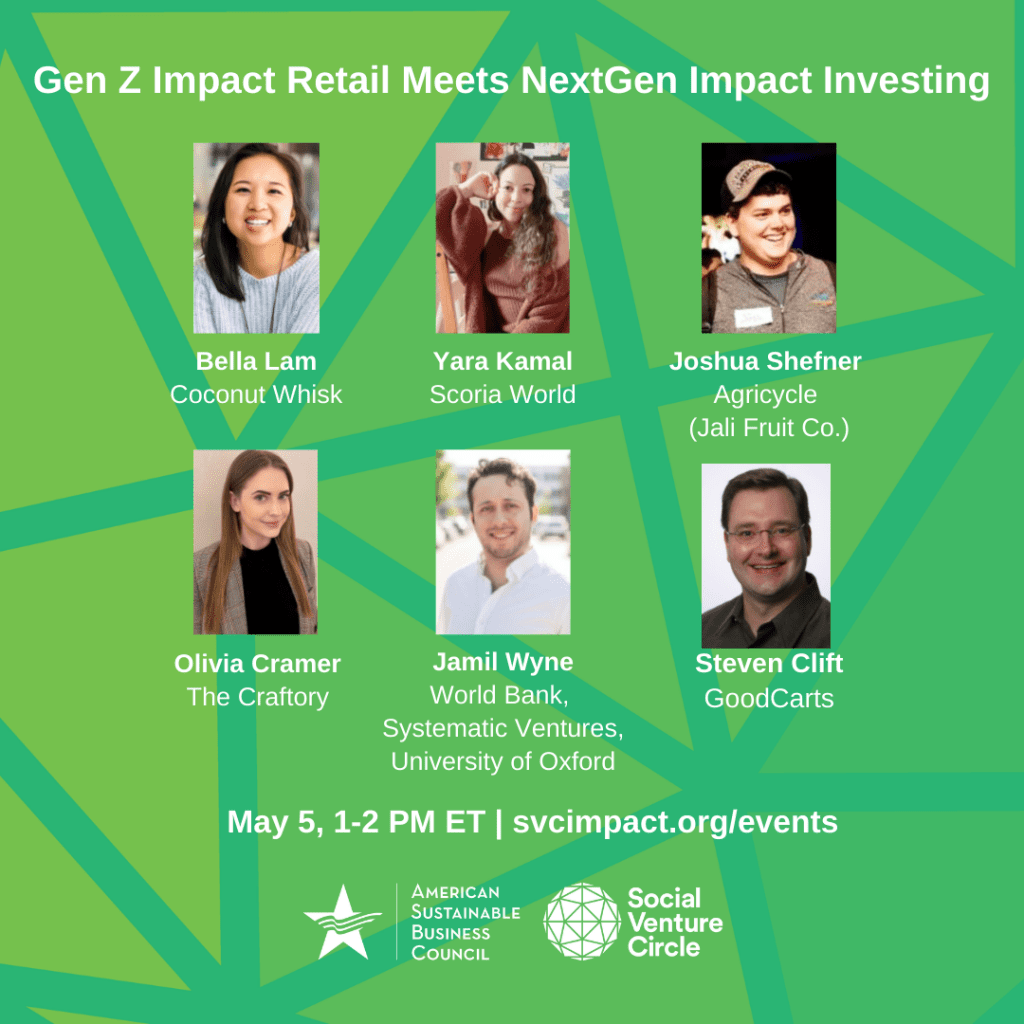 Gen Z Entrepreneurs Meet the Next Generation of Impact Investors
This can't-miss event features:
Lam co-founded the mission-driven vegan baking mix company Coconut Whisk in 2018 when she was 22. Her journey includes multiple awards, incubators getting her products into more than 60 retailers and now a brick-and-mortar vegan pancake café in downtown Minneapolis. She uses her unique experiences as an immigrant, first-generation college student and business leader to inspire others.
Joshua Shefner of Agricycle and Jali Fruit Co. 
Shefner founded social enterprise Agricycle Global in 2016 at age 19. Agricycle democratizes access to the agricultural value chain through a portfolio of upcycled ingredients for smallholders, women and youth worldwide. By supporting a network of 44,000 members globally, Agricycle is eliminating extreme rural poverty through market-based solutions.
Kamal founded the environmentally sustainable yoga brand Scoria in 2017 when she was 23. She crowdfunded the initial launch and the brand now leads the pack of Shopify stores based in Canada. The brand focuses on giving back, inspiring authentic self-expression, playfulness and imagination — on and off the mat.
Cramer is an investor with The Craftory. Based in London, this $375 million global investment house focuses exclusively on bold consumer product brands that positively impact their category, society and the planet. Cramer has worked for Beringa, Bank of America and Endeavor — a high-impact entrepreneurship movement.
Jamil Wyne of the World Bank, Systematic Ventures and University of Oxford
Wyne is an angel investor and specialist in emerging market development and investment, with a concentration on impact investment, startups and tech ecosystem development. He has worked with the World Bank, International Finance Corporation, the United Nations, Ashoka, Wamda Capital and more.
As CEO of GoodCarts, I am so pleased to moderate this panel of generation shifters. I joined GoodCarts founder Chris Dykstra in 2019 to lead the company's beta and its public launch in late 2020. GoodCarts is a growing community of impact-focused ecommerce brands that radically generates new customers for free. I was honored to receive the White House Champion of Change award from President Barack Obama for utilizing technology for good. I am also an Ashoka Fellow and have brought my expertise on digital democracy to 35 countries around the world.
This virtual event is a must for anyone ready to be inspired by the impact opportunity mixing sustainable and social impact retail with the next generation of impact investors.
About GoodCarts
GoodCarts is a network of sustainable and "shop for good" brands that radically cross-promote each other online post-checkout. It's free to join for qualifying impact retailers – in minutes you can join companies like Coconut Whisk and Jali Fruit Co. and gain new customers for free. Watch the demo and join via our Shopify App or other platforms.
Get to Know the Featured Brands
Preview panelist's startup stories with these short videos.