Christina Noel
If you're looking to grow your business, increase your bottom line, develop a deeper relationship with your customers, and build your brand, few things work better — and for longer — than having a strong email and SMS (text message marketing) strategy.
Email and SMS are arguably the only two digital marketing channels that you truly "own."
They aren't impacted by an algorithm and they give you an incredible opportunity to create engaging content for your audience.
Time and again, we've seen numerous ecommerce businesses — from Fully to Patagonia — develop a holistic email and SMS strategy as a key focus in their marketing.
However, these channels are only as impactful as you make them.
To drive sustainable growth, it's important to develop a strategy that will align with your company's values, resonate with your ideal customers, and create an engaging experience.
If you're looking to get your email and SMS strategy off to a hot start, or you're looking to take your marketing to the next level, here are five tips you need to ensure these channels yield the results you want.
Build a powerful customer experience with automation
When you think of automation, you may think of technology being used in an impersonal way. However, when it comes to your email and SMS marketing, automation can be used to create meaningful, memorable brand experiences (while also making your life significantly easier).
Cultivating a relationship over time is important to building brand loyalty, and automating your emails and SMS messages to send at "just the right time" can help make that brand building easier.
What exactly should you consider automating when it comes to email and SMS marketing?
We recommend setting up automated content that sends certain messages to your subscribers when they take a specific action.
For example, when a customer is shopping on your website and places something in their cart but doesn't check out, you can set up an automation to automatically send them an email reminding them to finish checking out.
Not sure where to start with your automations?
Create a welcome flow!
Used when a customer signs up for your newsletter, a welcome flow can help you tell your brand's story in a thoughtful and engaging way. You can craft the stories you share with your subscribers and set the tone for future emails.
Setting up flows (an automated email or series of emails sent at a specific time) also allows you to make passive money, long-term.
By setting up automated flows tied to your customers' behavior, you can achieve sustainable growth by driving sales without lifting a finger. For example, here is a great example of an engaging introductory email from MPOWERD: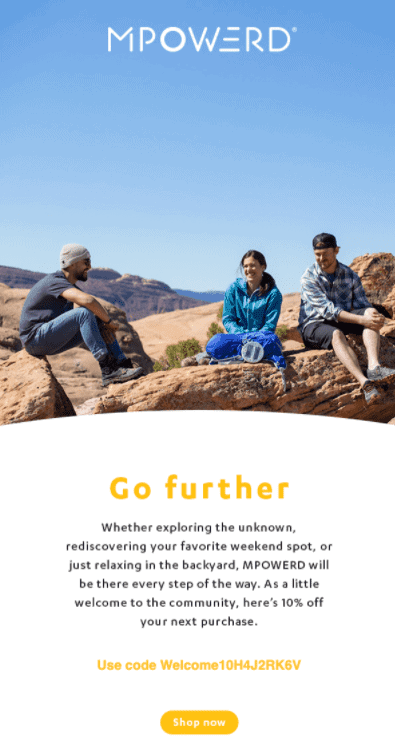 It uses great imagery, it shares a quick introduction to why their products are helpful, and it rewards people signing up for their e-newsletter, which is best practice.
Segment your audiences to create personalized experiences
The best way to make a positive impact with your email and SMS flows is by personalizing your marketing content for your various unique audiences.
It's important for you to learn about your subscribers and create specific segments of potential customers with similar characteristics and/or behaviors such as their buying patterns, interests, location, etc.
Custom campaigns and flows based on segmentation allow you to create tailored experiences and ensure they get content from you that speaks directly to their wants and needs.
For example, Marine Layer sends a different welcome message based on whether someone signed up to receive their emails on their website or in their retail stores at checkout: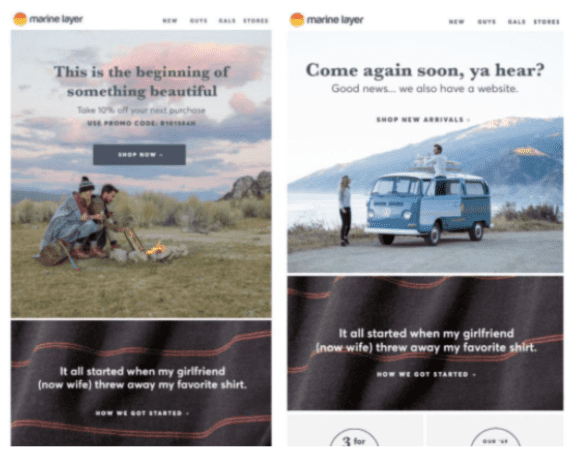 This approach allows people to feel like your brand is truly speaking to them, ensuring they are left with a more positive experience and increasing their chances of becoming repeat customers! Fair Anita gets to know their customer base better by providing a style quiz directly on their website homepage.

Based on the results, they are then able to tailor their marketing content and product promotions based on their customer's unique preferences.
Plus, this gives them insightful data for future product development to ensure they are creating jewelry that their community of potential customers want.
Build relationships at scale by using your email and SMS channels in tandem
If you're looking to leave an impression on your audience, it's worthwhile to explore how you can pair your email strategy with SMS.
SMS is another powerful tool to stay top of mind with your customers — especially since it has an estimated 98% open rate.
With such an incredibly high open rate, SMS is incredibly powerful. However, to quote the great Stan Lee in his Spider-Man comics:
"With great power comes great responsibility."
It is important to be careful with SMS and only send engaging content a few times a month.
Otherwise, you risk alienating your customers because they feel bombarded with messages. Once someone has unsubscribed, you've lost a valuable opportunity to directly build a relationship with them.
Experts at Klaviyo, a leading ecommerce-focused SMS + email marketing automation platform, recommend sending a maximum of six SMS campaigns per month.
Frequency should be informed by the product(s) you're selling:
Brands with more affordable, everyday items that need to be replaced every few months can be in touch more often (ex: nail polish, clean beauty, cleaning products), while products purchased less frequently (ex: bedding/bath, clothing) should space out their touchpoints.
Each channel has different frequency recommendations:
Emails can be sent more frequently (often 1-2 times per week) because they are less intrusive. This can be valuable, especially during seasons where your organization may be running promotions.
Be a little more careful with SMS and use it sparingly and with intention. We often recommend sticking to a monthly cadence, unless there is a holiday (ex. Black Friday) or special announcement (ex. new product release) to make. Even with that said, you still need to be extremely thoughtful in regards to how you use it.
The best way to get started with SMS is to follow Bombas' lead and add a phone number capture field on your email capture form.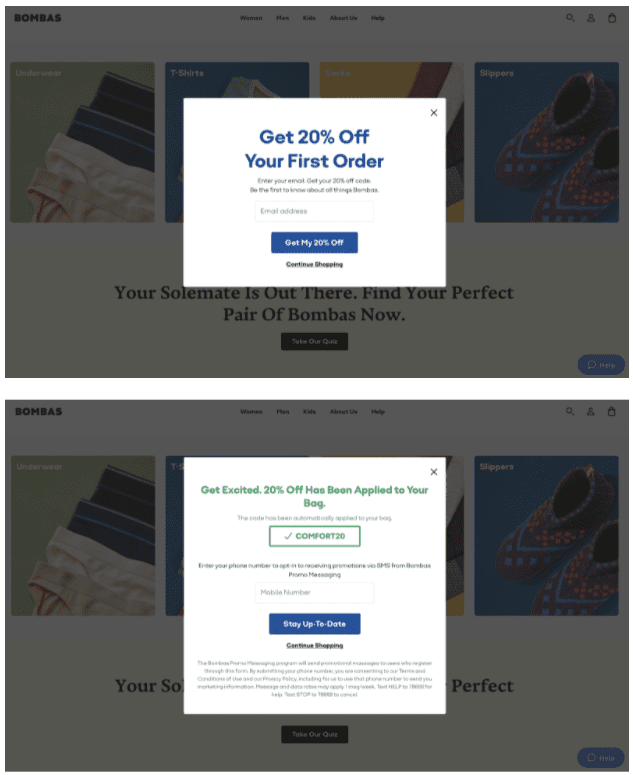 Optimize your impact using A/B tests
Once you've got your overall email and SMS strategy created and implemented, the next step is to begin identifying how to optimize your customer experience.
The best way to do that?
A/B testing.
A/B testing allows you to test the impact of different variables and provide greater clues as to what strategies drive results.
Common strategies include: sending the same email but at different times, altering the email subject or preview line, using emojis, changing the type of imagery used in the body of the email, and much more.
Through this approach, you're able to identify the type of content your audience finds most compelling based on real data from your customers. Then, you can use this data to your advantage and shape your email and SMS strategy based on these preferences.
For example, here's a sneak peek of an A/B subject line test conducted by Peacock Alley, a luxury bedding and bath company.

Their goal was to determine whether adding an emoji in the subject line would lead to higher open rates.
It's important that you A/B test every few months, as you want to stay on top of any potential change in interest for your audience and clients. By staying up-to-date, this ensures your content is never out-of-touch and uninteresting.
Improve and maintain your deliverability
Deliverability should be a top priority when developing and honing your email and SMS strategy.
Developing thoughtful content your customers care about will ensure that your emails and SMS messages are actually being received by subscribers.
When you send email or SMS content that is ignored or is considered spam, it impacts your brand's ability to email anyone (i.e. your messages will start getting banished to the dreaded spam folder or blocked by phone carriers), so it's extremely important to build a positive sender reputation.
It's also worth noting that if you develop a bad sender reputation, it's similar to ruining your reputation in the real world – it's really hard to undo the damage.
Given this, consider developing an email and SMS strategy that is about more than just sending discount codes.
Create content that your customers will engage with by telling brand stories, asking for customer input using surveys, setting up contests, and announcing new product launches.
When subscribers engage with your content, that improves the deliverability of your messages to all future subscribers.
We've found that welcome flow messages and shopping cart abandonment messages typically have the highest rates of engagement from subscribers since they are set up to send insightful content at exactly the right time. Given this, take time to thoughtfully craft these flows.
Looking for inspiration on how to develop an engaging email and SMS marketing strategy? Three of the Noel & Co. team's favorite brand newsletters include Jot coffee, Senita Athletics and Everlane.
—–
Looking to boost your online presence and increase your email and SMS list size?
We highly recommend joining the GoodCarts community! GoodCarts is an ecommerce application designed to boost cross-promotion sales. Showcase your goods or services and watch as other businesses and users promote them!
And if you're looking to establish a consistent and reliable email and SMS marketing strategy, know that the team at Noel & Co. can help you.
Noel & Co. is a Certified B Corporation marketing & strategy consultancy that works with mission-driven organizations to achieve sustainable growth and scale their positive impact by empowering them to develop a holistic marketing strategy and build deeper relationships with their ideal customers.
We'll help you create a comprehensive email and SMS marketing strategy that keeps your audience top-of-mind and contributes to your overall strategy and bottom-line.