Steven Clift
Go beyond a traditional About page and highlight the sustainability and social impact causes you're proud to support
Ecommerce brands often have admirable missions and goals, but it can be difficult to illustrate these on a website.
The typical "About" page setup often doesn't allow you to dig into too much detail beyond who you are, what you do, who's part of your team and how you got started. For purpose-driven brands, having a sustainability or social impact page (or, in some cases, both), can help forge deeper connections with shoppers and reach the right people. This is especially true since consumers today are seeking a more sustainable lifestyle, particularly in the wake of the pandemic.
Social Impact vs. Sustainability Page
Many brands have both a sustainability page and a social impact page on their website. The sustainability page will highlight what goes into their products and how they continue to manufacture them sustainably, while the social impact page might highlight their charity-related events or their fair trade labor practices and social entrepreneurship activities. There's no one right way to do it, it completely depends on what your goals and missions are as a brand.
GoodCarts member Zeki Learning lists out both what it's doing to remain sustainable and the social mission it supports.
Why You Should Have a Sustainability and/or Social Impact Page on Your Site
You might already have a mission statement published on your website. If you do, it's probably a couple of sentences in length and highlights why you do what you do. A sustainability or social impact page goes beyond this and actually shows what you're doing that's sustainable or making a difference.
Here's how a sustainability page can benefit your brand:
Connect with the right shoppers: One of the top three reasons shoppers haven't adopted a more sustainable lifestyle is because they don't have enough information. A dedicated page can go a long way towards building customer loyalty with shoppers who have the same values as you
Raise awareness: Shine a spotlight on the social impact ventures you're putting in place to give them more air time and visibility through ethical marketing
Stand out: Highlight your position in the market and separate yourself from other companies in your industry
Make a difference: Go beyond simply being a standard ecommerce store and show that you have more purpose than just selling products
Brand awareness: Get more eyeballs on your brand and increase your reach by talking about the sustainable activities you're doing

In the end, be it a conscious consumer or perhaps a retailer if you also sell wholesale, sharing your sustainability commitment and social impact can help you win a sale in this competitive world.
What to Include on Your Sustainability or Social Impact Page
If you're struggling with where to start and dread staring at a blank page, here are a few key elements you can include on your sustainability and social impact pages.
Your Mission Statement
A couple of sentences about why you do what you and what your goal is with your efforts. This gives readers a quick overview of your motives and values.
GoodCarts member BraveHoods starts their page with their mission statement. It's only a few sentences long, but it is a powerful summary of their "why." It's followed by a personal story to give their brand and ethical gifts heart.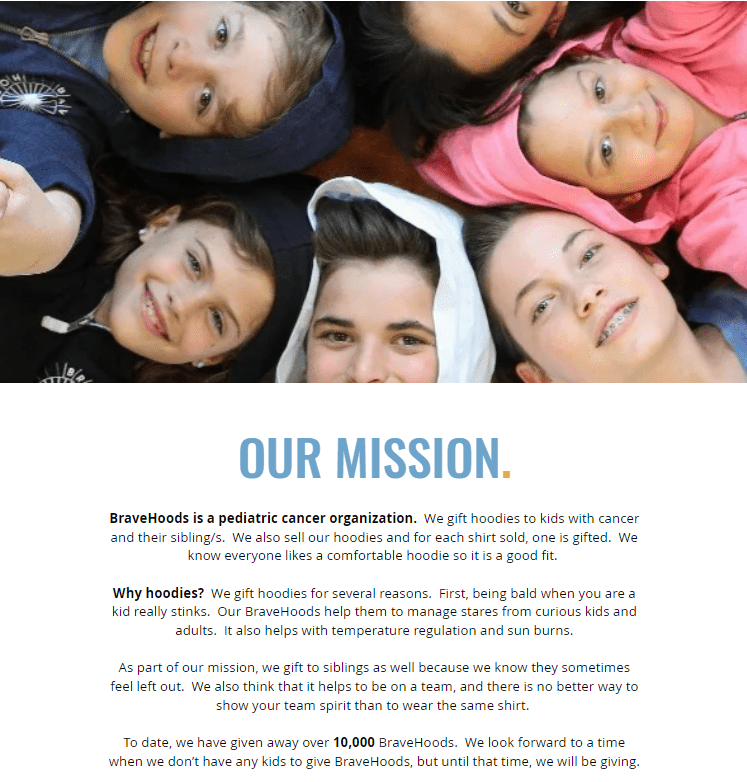 Social Impact or Sustainable Causes You Support
If there's more than one cause, list them out and give a brief explanation of what they are and why you're involved.
Timberland has a whole page dedicated to its responsibilities, listing out the causes they feel strongly about and are a part of.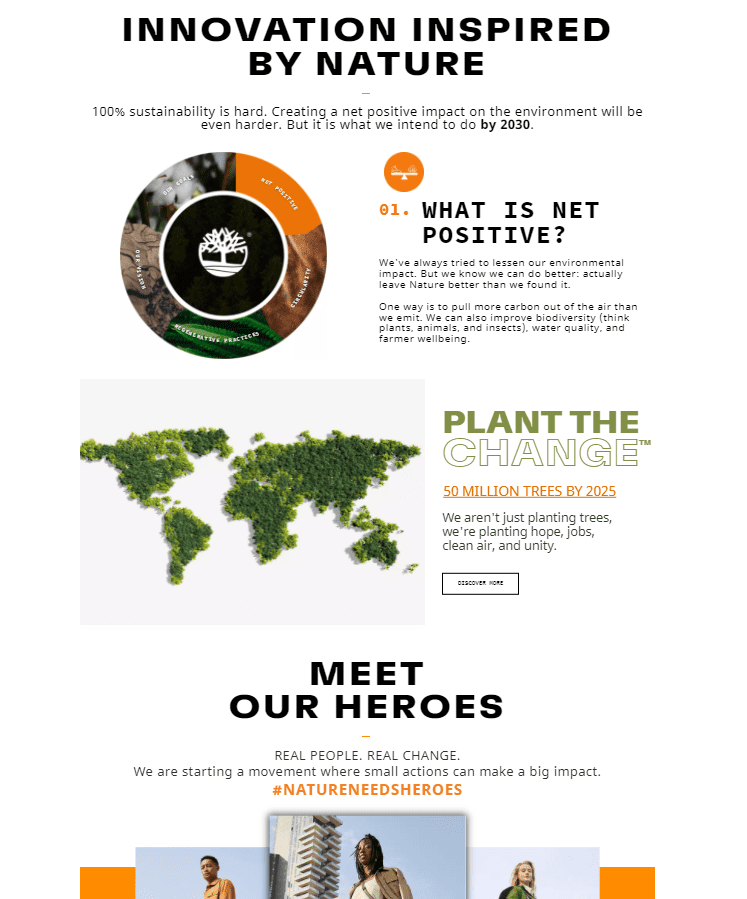 Your Sustainable Partners
Highlight any sustainable partners you work with or accreditations you've earned in your social impact journey. You can also include their logos and information about them, where possible, for added credibility.
Tangible Results You Want to Achieve
Do you want to plant X number of trees by 2022? Save Y million tons of plastic? Use Z% renewal energy? Put into numbers what you want to achieve and include how far you've already come.
Your Forward-Thinking Plan
How are you going to reach those goals? Highlight what measures you're putting in place to get to those numbers. Oneka states how many bottles they've saved and the current percentage of their collection rate on their social impact page. When you're putting a spotlight on your results, be prepared to update these numbers on a regular basis so they remain relevant.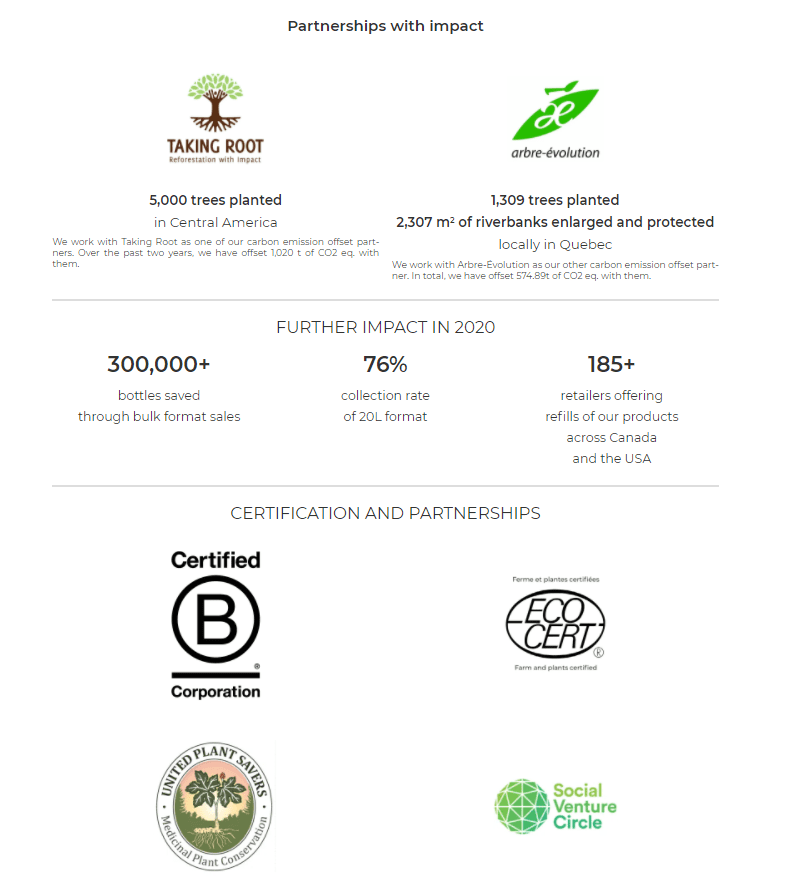 FAQs
Answer common questions shoppers might have about your sustainability efforts to provide reassurance and build trust.
Bring Sustainability to the Forefront
Social impact is really important for brands that invest in sustainable business practices, but voicing what you're doing can be difficult. Create a sustainability and/or a social impact page to share your story and make sure you include all the crucial ingredients: FAQs, your results, sustainability partners and your mission statement.
Get started with GoodCarts today.
When you join, we always review your About and Sustainability page if you have one. This helps us determine if you qualify for our large sustainable products and shop for good circle. See our Members Showcase, where a selection of our member brands share their impact stories to inspire your own.