Steven Clift
Your business depends on your existing customers. Turn one-time buyers into lifelong repeat customers and your most loyal fans 
It's easy to focus on attracting new customers, but repeat customers spend more and they market your business for you through recommendations to friends and family.
Sure, getting new customers is great, but focusing on turning one-time buyers into loyal fans comes with a number of benefits:
It's cheaper to retain existing customers than find new ones
Marketing costs are considerably lower
Returning customers spend more than new ones
Happy customers spread the word about your brand
If you've captured new first-time customers through GoodCarts, how do you entice them to return to your store time and time again? Here are some top tips to secure that much-needed customer loyalty and build a customer retention strategy.
Tactics to Turn One-Time Buyers into Loyal, Repeat Customers
1. Product Recommendation Emails
80% of shoppers are more likely to buy from a company that offers personalized experiences and 44% of consumers say they are likely to become repeat buyers after a personalized experience.
Tapping into the individual wants and needs of each shopper to provide a unique journey is a no-brainer, and one of the easiest ways to do this is through product recommendation emails.
Use the data you have from past customer purchases to serve personalized recommendations, like items relevant to a shopper's last purchase or products they regularly buy. Even better, deliver them straight to shoppers' inboxes for a truly personalized experience.
Old Pal Provisions gets personal by recommending products it thinks customers will like to improve customer experience.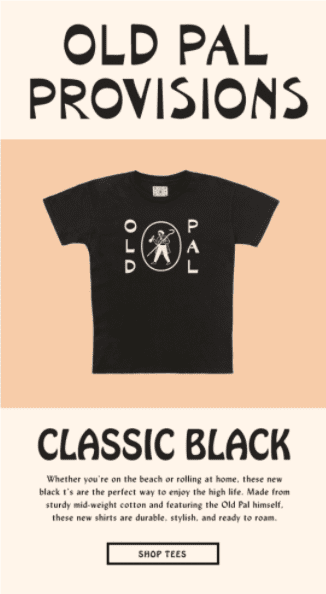 2. VIP Discount
Everyone likes to feel part of something exclusive, so show your loyal customers the love. Make them feel special by offering a discount on their next purchase, sending them a free gift, or giving them first dibs on another must-have deal.
Research shows that 71% of online shoppers are influenced by discounts, and the stronger your relationship is with a customer, the more likely they are to buy into an offer (and keep coming back for more).
Saxx does exactly this by offering existing customers 10% off their next purchase. Not only does this mean there's an increased chance of shoppers coming back, but they'll also strengthen customer relationships at the same time.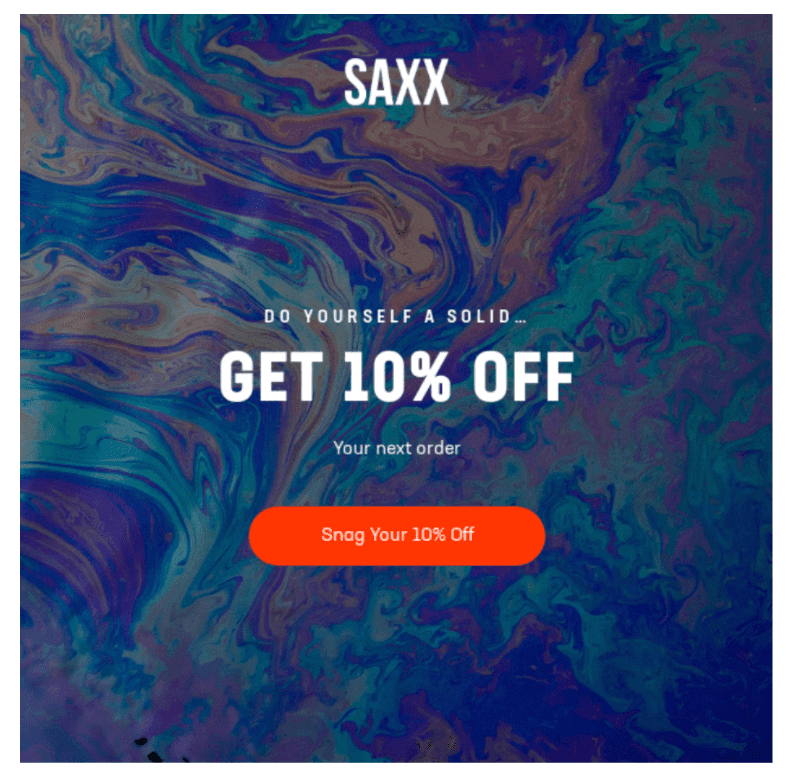 3. Exclusive Access to New Products
Want existing customers to feel special? Why not give existing them early-bird access to your latest product lines? More shoppers than ever are looking for a community around the products they buy, and nothing says "we appreciate you" more than giving your loyal fans the first look at new or exclusive products.
The Co-op offers exclusive items to its members. They're available for a limited time only and, if you want one but aren't a member, you have to sign up.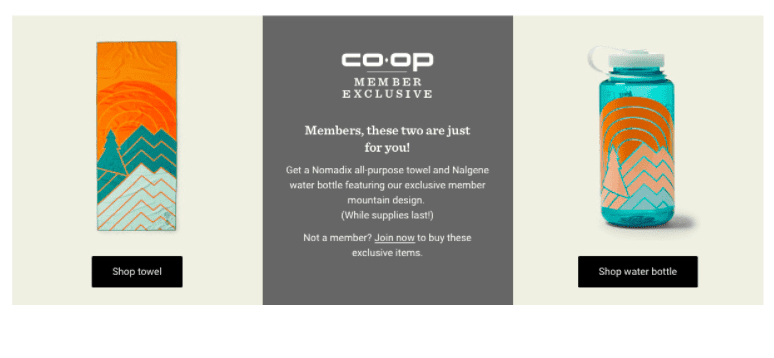 4. Customer Loyalty Programs
Building an online community is crucial if you want customers to come back for more. But it's also great for increasing revenue and the lifetime value of your customers. Get returning customers to sign up for a loyalty program where they get rewards for the purchases they make. Research shows that loyalty programs like this can increase revenue by up to 18%.
The Tie Bar gives customers the chance to earn points on every purchase which they can spend online or in-store.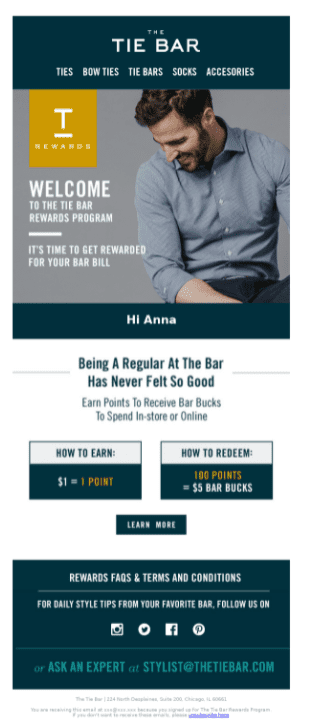 5. Keep Customers in the Loop
Keep the momentum going by ensuring customers don't forget about you.
Newsletters are great for staying front of mind, and they remind customers why they bought from you in the first place. They're also the perfect vessels for sharing the latest brand news, freshly released products, and other valuable community information.
Goop's newsletter links out to recent blog posts and includes a letter from the editor to further secure existing customer relationships.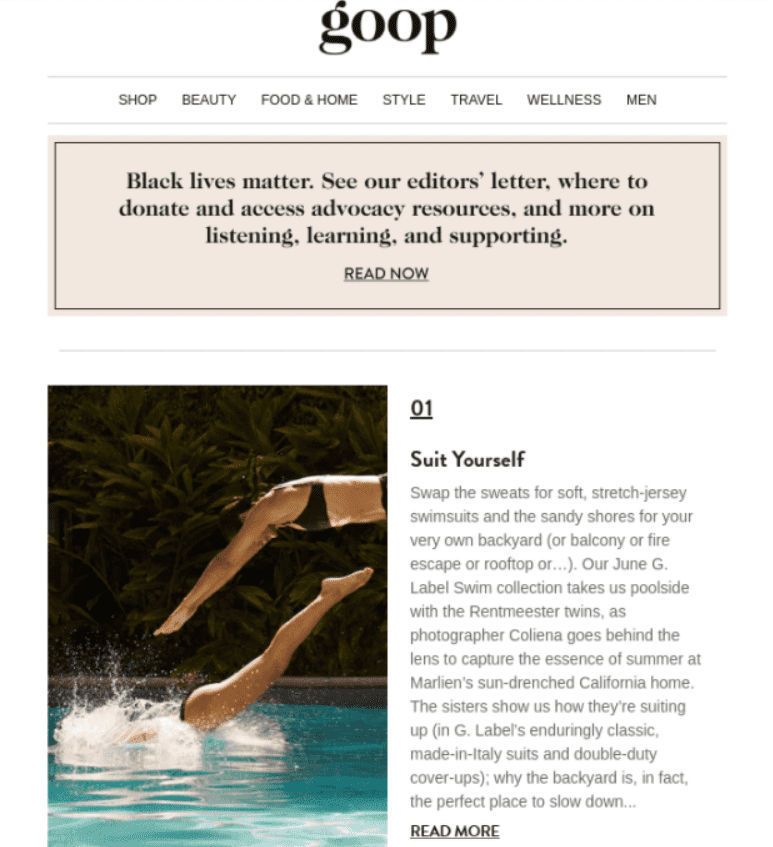 6. Shopper Coupons
Coupons, like discounts and exclusive deals, make customers feel special. GoodCarts lets you share digital coupons with like-minded shoppers who have purchased from similar sustainable businesses.
Being part of a trusted network that's committed to social impact and sustainability helps boost customer loyalty and improve your ethical marketing strategy, especially since shoppers today actively seek out brands that share their values.
Repeat customers on your site will know you are part of a retail for good movement that helps them discover complementary products post-checkout with exclusive discounts they can't find anywhere else.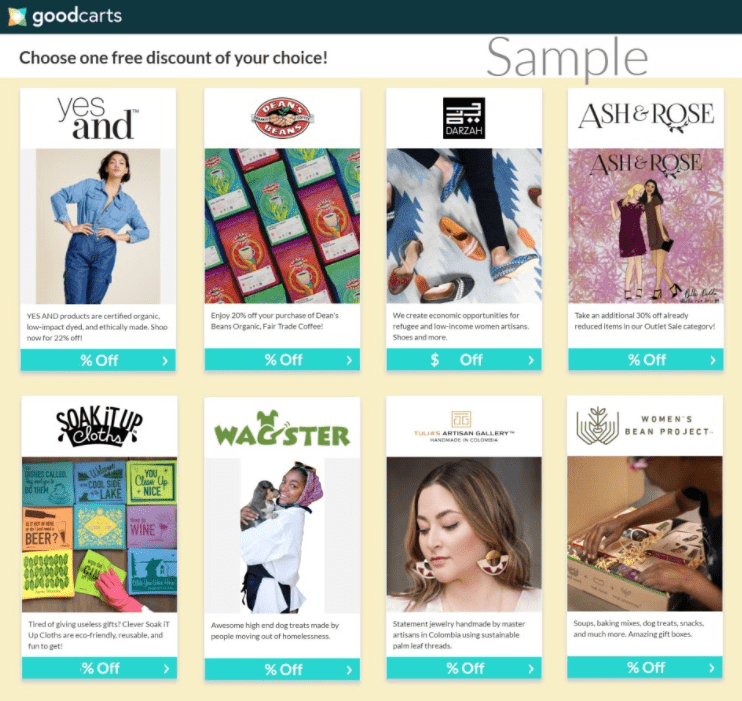 Repeat Customers Are the Key to Success
Attracting new customers is crucial, but don't focus so much on it that you overlook your existing customers – your business depends on them. Not only do they spend more and cost less to sell to, but they are your biggest advocates. Make sure you engage with them and show them you value their loyalty by sharing discounts and coupons, sending personalized emails, and keeping them up-to-date with new launches and brand updates. Start using GoodCarts today to grow your customer base.